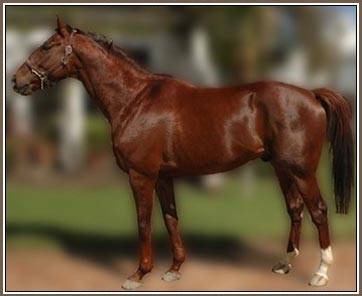 WEST ORDER
Gone West - Irish Order, by Irish River (FR)
GONE WEST is the sire of leading sires, Grand Slam, Mr. Greeley, Zafonic, Zamindar, Western Winter and Elusive Quality, sire of Smarty Jones 2004 Kentucky Derby winner.


Undefeated in two starts at two in England and purchased by Sheikh Mohammed Bin Rashid Al Maktoum- reportedly for $1.8 Million.


Dam is a half sister to sire Entrepreneur (by Sadler's Wells), winner of 2000 Guinear (GR.1)


His pedigree makes him priceless as a broodmare sire.


West Order is a stakes performing son of sire of sires, Gone West. Out of a stakes winning and graded stakes producing Irish River mare, he comes from a classic producing family.
A Mr. Prospector line horse, free of Northern Dancer, West Order should be suited by virtually any crosses with that line. He is half-brother to a graded stakes winner by In the Wings (also sire of Act One), who is by Sadler's Wells (also broodmare sire of a grade one winner by Western Winter). The female line of West Order has done well with Sadler's Wells and the cross will also give linebreeding to the important mare, Lalun. Potential sources of Sadler's Wells include Fort Wood, Casey Tibbs (giving the genetic relatives Riverman and Mill Reef), Dolpour and Braashee. This also suggests Sadler's Wells' brother, Fairy King, who is sire of Tara's Halls, Anytime, Second Empire, Almushtarak (giving the genetic relatives Riverman and Mill Reef) and Encosta de Lago. The Gone West line has also enjoyed success with Northern Dancer through Sadler's Wells' three-parts-brother Nureyev who is available through Wolfhound, Russian Revival and Caesour.
READ IN MORE DETAIL >>